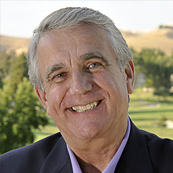 Thomas Loarie joined Refocus Group in 2014 and now serves as the Chairman of Board of Directors. With his extensive Class III medical device experience, he assists the board and executive team in the clinical development and commercialization of VisAbility™ Micro-Insert System for presbyopia.
Mr. Loarie is also the Co-founder and CEO of BryoLogyx, Inc. He has over 45 years in the healthcare industry that includes 30+ years leading venture-backed healthcare start-ups and 13 years with American Hospital Supply Corp (now Baxter), where he was president of the American Heyer-Schulte Division. He also has global operating and commercialization experience and has brought more than 20 innovative products to market across 11 healthcare domains. Mr. Loarie formerly served as assistant professor of surgery at Creighton University, and currently serves on the Dean's Advisory Council of the Jacobs School of Engineering at University of California at San Diego.
He has a B.S.M.E. from the University of Notre Dame, and attended graduate school at the Universities of Minnesota and Chicago.